For some enterprises, the risk of data center downtime is far too great to even consider. Few situations are more frightening for a company than data center outages. A data center outage can cause critical problems to an enterprise of any size.
As an IT manager, it is difficult to predict every single scenario that could potentially damage the business operation especially when the causes like a natural disaster are simply out of our capability to control. The diagram below illustrates a typical hub and spoke topology: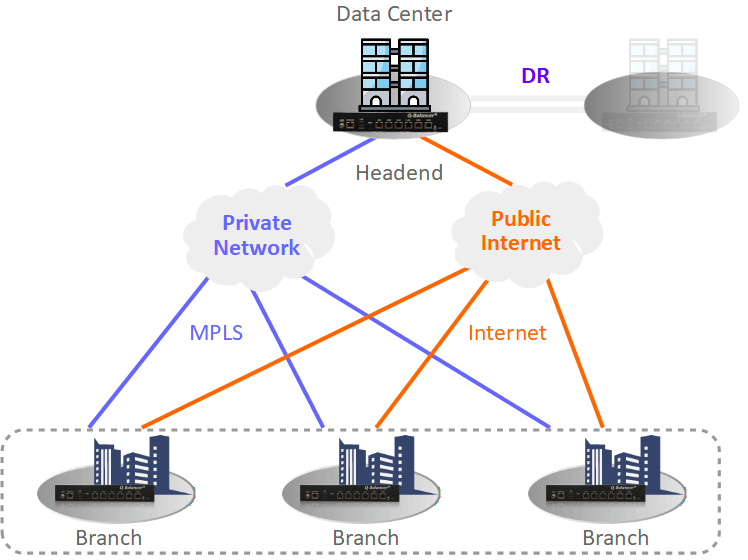 Typical Hub-and-spoke Network
In the deployment illustrated, Q-Balancer ensures business continuity by providing WAN failover and load balancing across types of WAN links. However, this does not help much in the event of unexpected data center downtime.
Problems to be solved:
>  There are several causes of data center downtime including natural disaster, network failures, hardware or software malfunction, power outages, cyber attacks, human error, etc.
By implementing a multi-data center strategy that synchronizes data via a dedicated backup facility, enterprises can protect themselves from data loss. For a multi-data centers topology in active-standby mode, the primary data center traditionally sends information to the secondary data center, which remains inactive until an outage occurs at the primary.
Solution: Multiple Headend Gateways for Multi-Data Centers
>  As the diagram illustrated below, the deployment with multiple headend gateways can help instantly re-route traffic to the remaining active data center in case one of data centers goes down.
> It can also provide load balancing across data centers if customers' multi-data center topology support data synchronization.
>  The connections as a dedicated backup facility can be replaced with multiple tunnels, which is built based on broadband connections, between data centers. This saves cost, and increases reliability and bandwidth throughput.
Multiple Headend Gateway for Multi-Data Center Network