Whether it is a small enterprise without an IT professional team, a fast-growing medium-sized enterprise, or a large enterprise with many branch offices, the abilities to identify, manage and control key applications to improve productivity will be a necessary advantage for successful enterprises in the future.
Q-Balancer Unified Access Gateway (UAG) is a solution of applications and traffic control. The UAG has powerful network control and analysis capabilities, allowing enterprises to meet the needs of key applications with limited bandwidth resources, ensuring and optimizing the service quality and performance of the enterprise network. The solution has network application layer identification and control capabilities. Network managers can formulate management strategies based on business requirements to effectively guarantee the bandwidth requirements and delivery of key applications. With the integration of centralized management, the IT team can quickly and easily manage all connected devices through a single management screen, simplifying the enterprise network structure and reducing the work of network management.
The function settings of Q-Balancer UAG all adopt a user-friendly graphical interface, which is simple, intuitive and easy to use. Q-Balancer UAG enables enterprises to save IT resources and quickly and easily set priorities for business-critical application.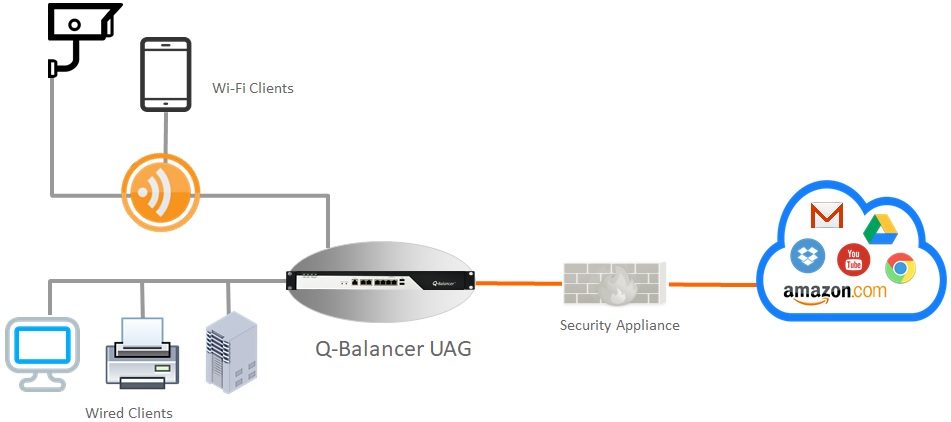 SME Network with Q-Balancer UAG
What Q-Balancer UAG Provides for Enterprises
Powerful Management
The inbuilt Captive Portal (CP) feature allows IT administrators to block clients from accessing the network until user verification has been established, and it effectively integrates traffic management policies, authentication mechanisms, and applications to meet business goals and user expectations. Q-Balancer UAG helps enterprises to control bandwidth resource usage finely. IT Administrators can virtually divide network bandwidth resources to reduce bandwidth competition among users or applications. Service priority classifies all network traffic for application classification and prioritization of bandwidth usage. Traffic management policies can be flexibly made in any combination, including MAC, IP address, user ID, port, application, priority, bandwidth allocation, traffic shaping, and blocking. Traffic management policies are automatically triggered as traffic conditions change.
Granular Traffic Control


Q-Balancer UAG helps enterprises control bandwidth resource usage finely, the built-in application database can identify thousands of web applications and protocols, applications share bandwidth resources, and ensure the priority of bandwidth usage and transmission delivery of key applications. The applications database is provided from the Q-Balancer cloud, and the device can be automatically updated. User-defined applications are also supported to ensure that the solution can accurately control network traffic based on actual needs.
Insight into Network


Q-Balancer UAG's reports and analytics provide decision makers with application and network bandwidth usage. Provide real-time monitoring, usage metrics, and online behavior information, allowing information teams to control traffic usage information such as applications, users, and hosts, analyze their impact on network performance, and quickly solve problems. The information provided by the device is interrelated and can be further tracked. Traffic analysis charts can be generated in PDF, graphic, and CSV formats for administrators to download and share.
Model Comparison:

MODELS

UAG-400

UAG-1000

UAG-3000

Designed for

Small and Medium sized Enterprises

Medium and Large sized Enterprise

Enterprise / Data Center / Campus

Recommended Users ¹

100 ~ 500

300 ~ 2000

1500 ~ 20000+

SYSTEM

Throughput (bps)

400 ~ 800 M

1 ~ 2 G

3 ~ 15 G

Max. Concurrent sessions

800K

2M

8M

Connections per Second

5K

50K

120K

Number of Traffic Control Policies

1,024

5,000

20,000

HARDWARE

Network Interfaces (GbE)

6

8

8 ~ 24 ²

Hardware LAN Bypass (Pairs)

1

2

2 ²

User-defined Port

●

●

●

Inbuilt Storage

500GB

1TB

2TB

Operation Modes

NAT / Inline / SPAN

Device Management

Web UI/ Console/ SSH, RBAC

HA

Active / Standby

DIMENSIONS & WEIGHT

Form Factor

1U

1U

1U

W x D x H (mm)

430 × 248 × 44

430 × 394 × 44

430 × 450 × 44

Net Weight (Kg)

7

8.2

8.5

POWER & ENVIRONMENT

Power Supply

Single

Single

Dual ³

Max. Consumption (W)

60

65

300

Operation Temperature (°C)

0 ~ +40

0 ~ +40

0 ~ +40

Storage Temperature (°C)

-20 ~ +70

-20 ~ +70

-20 ~ +70

Humidity (non-condensing)

10% ~ 90% RH

10% ~ 90% RH

10% ~ 90% RH

Certifications

FCC, CE), RoHS

FCC, CE, RoHS

FCC, CE, RoHS

Warranty

1 Year

1 Year

1 Year

Remarks:¹ Recommendation for sizing purposes only. No software restrictions applied. ² LAN modules with 10GbE/ 25GbE/ 40GbE/ LAN Bypass are optionally supported. ³ Redundant Power Supply unit is an option. ⁴ All specifications are subject to change without prior notification.
ORDERING INFORMATION:

Product

SKU

DESCRIPTION

Q-Balancer UAG 400 w/400Mbps

UAG-400-1

UAG-400-1 supports 400Mbps throughput.


Q-Balancer UAG 400 w/800Mbps

UAG-400-2

UAG-400-2 supports 800Mbps throughput.

Q-Balancer UAG 1000 w/1Gbp

UAG-1000-1

UAG-1000-1 supports 1Gbps throughput.

Q-Balancer UAG 1000 w/2Gbp

UAG-1000-2

UAG-1000-2 supports 2Gbps throughput.

Q-Balancer UAG 3000 w/3Gbp

UAG-3000-1

UAG-3000-1 supports 3Gbps throughput.


Q-Balancer UAG 3000 w/6Gbp

UAG-3000-2

UAG-3000-2 supports 6Gbps throughput.

Q-Balancer UAG 3000 w/9Gbp

UAG-3000-3

UAG-3000-3 supports 9Gbps throughput.

Q-Balancer UAG 3000 w/12Gbp

UAG-3000-4

UAG-3000-4 supports 12Gbps throughput.

Q-Balancer UAG 3000 w/15Gbp

UAG-3000-5

UAG-3000-5 supports 15Gbps throughput.