Q-Balancer VHUB is a virtual appliance for tunnel bonding. With the deployment of VHUB, enterprises can establish bonding tunnels across their data centers and branch Q-Balancer devices. From the cloud, VHUB connects and provides branch networks with the fully aggregated speed of all available connections, and therefore branch users can enjoy faster Internet connectivity at high WAN throughput.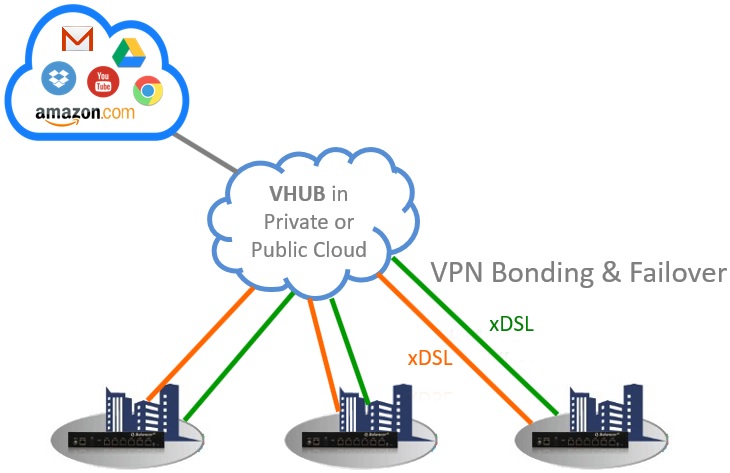 Deployment of QB-VHUB
What Q-Balancer VHUB Provides for Enterprises
Bandwidth Bonding
The packet offload function divides a single network connection session into multiple groups of packets for transmission, and transmits packets simultaneously through multiple groups of virtual channels to increase bandwidth capacity. This provides fast, reliable and secure network transmission for online activities including browsing, video, file and other transmission applications. Businesses can replace expensive single-line or MPLS services with lower-cost multiple sets of broadband networks.
Unbreakable VPN Connectivity
Enterprise point-to-point VPN network, if you want to increase the transmission speed and availability of point-to-point network, it can be achieved by deploying VPN load balancing and backup mechanism. Through the integration of Q-Balancer VHUB with Q-Balancer devices deployed in branch offices, a single VPN session connection is divided, and the packet is transmitted through multiple paths, which improves the VPN transmission speed and redundancy capability.
Elastic Deployment of Public and Private Clouds (Cloud Server Agnostic)
When enterprises face increased network demands due to rapid business growth, they need immediate and highly scalable network solutions. High-speed Internet connection is achieved through Internet services from different Internet service providers. Q-Balancer VHUB can be flexibly deployed on private or public cloud networks to meet the needs of enterprises for rapid and flexible deployment.
Model Comparison:

Model

QB-VHUB

Designed for

VPN Concentrator (VPNC)

Throughput (bps)

Unlimited

System Requirement

Hypervisor Supported   

VMware ESXi 6.7 or above

Minimum vCPU Required          

2

Minimum Network Interfaces   

2

Minimum Memory (GB)

4

Remarks: ¹ All specifications are subject to change without prior notice.
Ordering Information:

Product

SKU

Description

VHUB w/ Unlimited Throughput

VHUB

One-year license for QB-VHUB, which supports 2 WAN links, 10 bonding tunnels, and unlimited WAN throughput.

Tunnels Upgrade License

ADM-TUN-010

A stackable upgrade license for QB-VHUB, which adds 10 tunnels to a QB-VHUB.