Identifying Issues and Improving Network Performance
Logging , monitoring, and reporting are critical components in enterprise network as the features enable IT team to understand what has happened within the network. The ability to collect necessary network activity in a logical, organized and easily segmented way makes logging itself valuable, while the ability to present the recorded activity in a more readable format is also important to enterprise networks.
Log queries of Q-Balancer are interactive, and thus you may drill down to see more details. To share the results of queries with others in your organization, you can download the results for distribution in PDF, EXCEL, and CSV formats.
>  Logging & Monitoring
Real-time monitoring of Q-Balancer helps IT team visualize applications, users, and endpoint traffic within enterprise networks, analyzing network performance and rapidly pinpoint issues.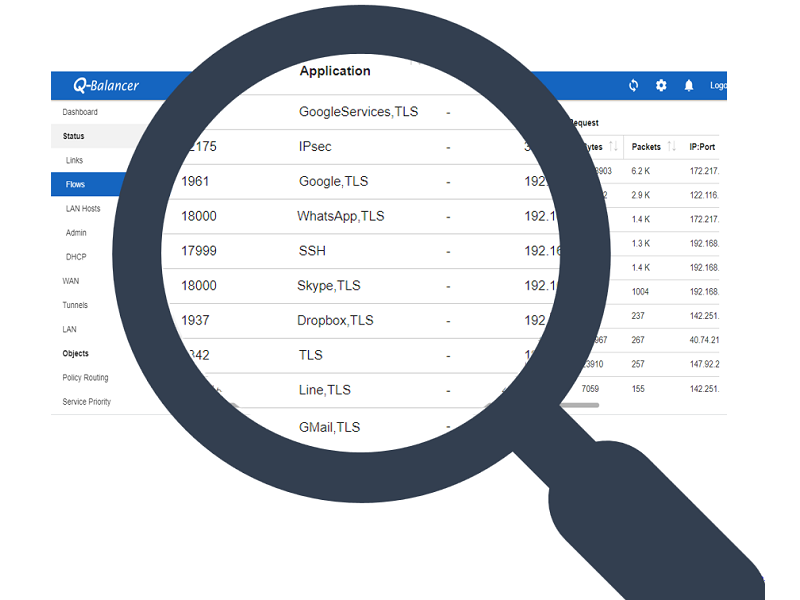 >  Reporting
The traffic report is presented in a graphical format, and can be downloaded manually via web UI. Network administrators can also schedule the report generation and send it to the designated recipients by day/week/month. Sample Report >>
Top Benefits
>  Real-time and historical view for traffic
>  Visibility to the use of internet links
>  Fault finding and troubleshooting
>  Streamlined network and application performance management