Site to Site Traffic Failover and Load Balancing
Virtual Private Network (VPN) is a widely deployed technology for multi-location enterprises to build a secure communication over an IP network between the geographically separate sites. It has become one of the most common tools for data security as there is a greater need for encrypting communication than ever before.
Site-to-Site VPN 
Q-Balancer supports IPsec tunnel that is terminated between the Q-Balancer appliances, and also allows third party VPN devices to terminate IPsec VPN tunnels on the Q-Balancer Appliances. This enables corporate network to build VPN tunnels whether the branch office has the VPN device from the same product supplier. Any VPN device which supports standard IPSec may terminate IPSec VPN tunnels on the Q-Balancer appliance. In addition, multiple IPSec VPN tunnels can be terminated between Q-Balancer and the third-party VPN devices.
IPSec VPN tunnel are traditionally established based on a single Internet circuit. Should the circuit fails, there is no way to keep the connectivity for the LAN-to-LAN access. Q-Balancer is now technically possible to form multiple VPN tunnels and send LAN-to-LAN traffic over multiple IPSec VPN tunnels. In the event of WAN outage, LAN-to-LAN traffic will be diverted to the remaining active tunnel(s). This ensures network connectivity between business locations within an enterprise.
>  IPsec VPN Tunnel Termination and Failover
IPsec VPN Tunnel Termination and Failover 
When more bandwidth is required to accommodate the growing demand, it would be possibly difficult to increase bandwidth capacity through traditional NAT-based multiple WAN load balancing technology. The inbuilt mechanism of IPSec VPN tunnels termination enables enterprises to form multiple IPSec tunnels between locations and distribute LAN-to-LAN traffic across multiple IPSec tunnels. As the load balancing works in conjunction with policy-based routing, this increases the flexibility of LAN-to-LAN traffic control and routing decisions.
>  IPSec VPN Tunnel Termination and Load Balancing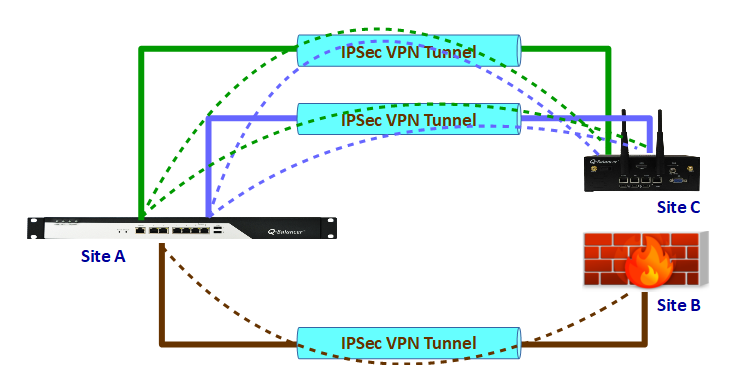 IPSec VPN Tunnel Termination and Load Balancing
Connectivity – LAN-to-LAN connectivity will remain up and running even if outages occur on one of the WAN links.
Increased Speed – LAN-to-LAN VPN traffic is distributed by policy across multiple WAN links.
Flexibility – It can be deployed anywhere in the world, and built on WAN transports of any type.
Compatibility – It works with any VPN solutions that support standard IPSec.
Uncompromised Security – Military-grade encryption is offered for the data passing through the tunnels, and VPN load balancing provides additional data protection by spreading LAN-to-LAN traffic across multiple paths.